So, you've just got yourself a food truck and you're excited to begin moving your new business forward. You have sorted out all of the details – the business name, the type of food you want to serve, the endless pile of paperwork. All that's left to do is finalize the branding and decide how you want to promote the business. 
Of course, the best way to ensure this is done efficiently is by using a food truck wrap. Food truck wraps are a very popular way to brand and establish yourself in the food truck industry, but not a lot of people know how much it costs to wrap them.
Wrapping a food truck is key to business branding, so it's important that you can factor this into your budget. Luckily we're here to help. Read on to find out everything you need to know about wrapping a food truck, and some alternatives if you decide a wrap is not what is best for you. 
What Is A Food Truck Wrap?
A food truck wrap is a sticker made from vinyl that covers the body of a truck. Its purpose is to act as a visual representation of your brand so customers can identify you wherever you are. Food truck wraps are made with format printers and are then fitted to your truck with careful installation. 
What Are The Benefits Of A Food Truck Wrap?
If done well, food truck wraps can showcase exactly what your business is, the level of quality it aims for, and what it sells. A food truck wrap can help your business thrive in the following ways:
Great First Impression
You only have a limited amount of time to grab the attention of a potential customer. This is especially true if you're based in a busy city with an endless source of competition. So, it is crucial that you introduce your food truck in the perfect way to not only catch somebody's attention but to maintain it. 
With a vinyl wrap, this is all made easier for you! If you include the correct details, then people passing by will be able to identify your business and what you're trying to sell. If you add other details that summarize your business or business values then you will be able to find your target market. 
Grows Your Audience 
Since you are traveling around to different places, there will always be an opportunity for fresh faces to come across your business. Therefore, a vehicle wrap on your food truck has the potential to attract customers from all over the state or even the country. By having a recognizable wrap, people will instantly know your business when they come across it and recommend it to friends, family, and spread the love for your brand quickly. 
Protects The Exterior Of The Vehicle 
As time passes, your food truck will be exposed to scratches, stains, rust, eroded paint, and other forms of damage to its exterior. While some of these are merely surface-level issues, some, such as rust, can cause serious damage to the vehicle if left untreated.
Wrapping your food truck can give it a layer of protection from these issues for a long period of time, provided it is taken care of. 
Switch Up Your Branding With Ease 
Sometimes, we feel like we need a full rebrand and a fresh start for our business. It is much easier to do this with a wrap than a paint job because the wrap will be simple to remove, replace, and move forward. 
How To Wrap A Food Truck
The following steps show you just how to apply a food truck wrap!
Create The Design 
The first thing you'll need to do is create the design! You should use your brand logo or signature colors for the design so you're instantly recognizable in a crowd. Part of the design process is ensuring the correct measurements for the truck are taken, to make sure the wrap will work the way you want it to. 
Don't worry if you don't have a design! There are many companies out there who are willing to help you. 
Making The Design
The graphic for the food truck will then be printed and laminated to protect the wrap from UV rays and abrasions, both of which can cause the wrap to erode over time. 
Installing The Design
Now, this step may sound easy, but it is vital that there are specialists aiding you with this last task. This is because a food truck doesn't always have the easiest shape to work with, and the vinyl wraps come in many, specially-cut pieces for certain parts of the truck.
Therefore, it is best to allow a professional to complete this task to ensure the wrap is free from wrinkles and bubbles. 
How Long Will The Food Truck Wrap Stay On?
If done correctly, most food truck vinyl wraps will last anywhere between three to five years. Now that's a lot of advertising! 
Can The Wrap Be Removed?
Even though the vinyl wrap can last for three to five years, it is better to remove it sometime during this lifespan. Luckily, a professional will be able to do this for you with ease without damaging the truck with marks or residue from the adhesive. 
Will A Food Truck Wrap Damage The Original Paint Job?
No, the vinyl wrap shouldn't do any damage to the food truck's original paint. However, if the paint was in poor condition before the wrap was applied, then it may be damaged once you remove it.
What Should You Include In A Food Truck Wrap Design?
There are many things you could include in your food truck wrap design! Here are a few examples:
Style
The style of your vinyl wrap should depend on the image you want your business to portray. Are you aiming for something fun and casual, or something more sophisticated and formal?
Deciding on the image of your business will help a lot when it comes to creating your vinyl wrap design because it will keep you focused and help with your decision-making.
Logo
The logo is arguably the most important design choice of the vinyl wrap. Not only will you need to include it, but you will need to ensure it can be seen from far away. You should aim to place it on all sides of the truck to ensure it will be seen by the majority of people. 
Color
The color of the vinyl wrap depends on your aims for the business. Bright and bold colors may work better if you want to stand out from the crowd. Or, if you're going for a more sophisticated look, then you can use color to only emphasize certain other aspects of the vinyl wrap, such as the logo. 
Pattern
The pattern of your vinyl wrap can look like whatever you want it to! Choose bold lines, floral stencils, stylized images, whatever takes your fancy. However, you should ensure the pattern of the vinyl wrap matches your menu. 
For instance, if you are selling seasonal items, then you should choose decorative patterns that match the season. For example, maybe include some snowflakes, snowmen, or log fires for a winter-themed menu!
Interest Points
It can be very beneficial for your business to have interest points on your vinyl wrap. A point of interest can include: 
A display 
A mascot 
A signature image 
The interest points should work to promote the business – such as proving a photo opportunity for social media exposure.  
Contact Details
Not only will your business seem more established and trustworthy, but customers will be able to keep up with you on social media, and have a way to contact you for anything they might need. It is important to maintain healthy communication with your customers and to make them feel seen and heard. On your vinyl wrap you should include: 
Email address
Contact number 
Website
Social media pages 
How Much Does It Cost To Wrap A Food Truck?
We won't lie, it isn't exactly cheap to wrap a food truck. Vinyl wraps can cost $2,500-$5,000 on average. However, pricing can vary on the company, the structure of the vehicle, and its size.  
However, once you see the results it is totally worth every cent. It is important that your business has a unique image, and a food truck wrap is a great way to guarantee this. Additionally, it is important that a professional put the wrap in place to ensure it is completed to the best quality. 
What Are Some Alternatives To A Food Truck Wrap?
If wrapping your food truck is not cost-effective for you, then we have good news! There are many alternatives to a food truck vinyl wrap. Here are some examples!
Painting Your Food Truck 
Your first option is to paint your food truck. This will not be the same quality of work as a food wrap (unless of course, you hire a professional) but it is the more cost-effective option. 
If choosing to D-I-Y your food truck, you should create your design, print your design onto some stencils, and try your best! 
Painting a food truck costs less than a vinyl wrap – around $1,000-$3,000. 
The Partial Wrap 
Another alternate option to wrapping your food truck is to partially wrap it. This means you wrap some of the essential details onto the food truck – such as the logo or contact information – but nothing else. This can look as great as a full wrap design, but you should still ensure it is completed by a professional. 
Partial wraps cost between $1,500-$4,000 depending on the size of your food truck. 
Final Thoughts 
A food truck wrap is an excellent way to protect your truck from natural damage and allows you to switch up your branding as you see fit. With a wrap, you will be able to promote your business with ease. It can help you make a great first impression and grow your audience.
However, it can be expensive to wrap your food truck, which does turn a lot of people off from doing it. We think it is an important step in starting your food truck business as it proves advantageous in many ways.
However, if this is not the most cost-effective choice for you then we recommend investing in one of the alternatives – a new paint job or a partial wrap. 
Follow one of these steps, and you can turn the general public into long-lasting customers in no time at all!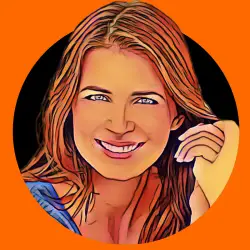 Latest posts by Hilary O'Shea
(see all)