Texas has a long history of serving delicious food from mobile kitchens. From breakfast tacos to barbecue, Texans love their food trucks. The state even boasts its own official food truck festival, Truck Fest, held annually in Austin.
Food trucks are becoming more common around the country, but they're especially prevalent in Texas. According to the Texas Department of State Health Services, there are currently over 3,500 food trucks operating across the state. That number is expected to grow as the popularity of this unique dining experience continues to spread.
In fact, the trend is so popular that some cities have taken steps to regulate them. San Antonio passed an ordinance last year requiring permits for food trucks and limiting where they can park. But since then, other cities like Dallas and Houston have also adopted similar regulations.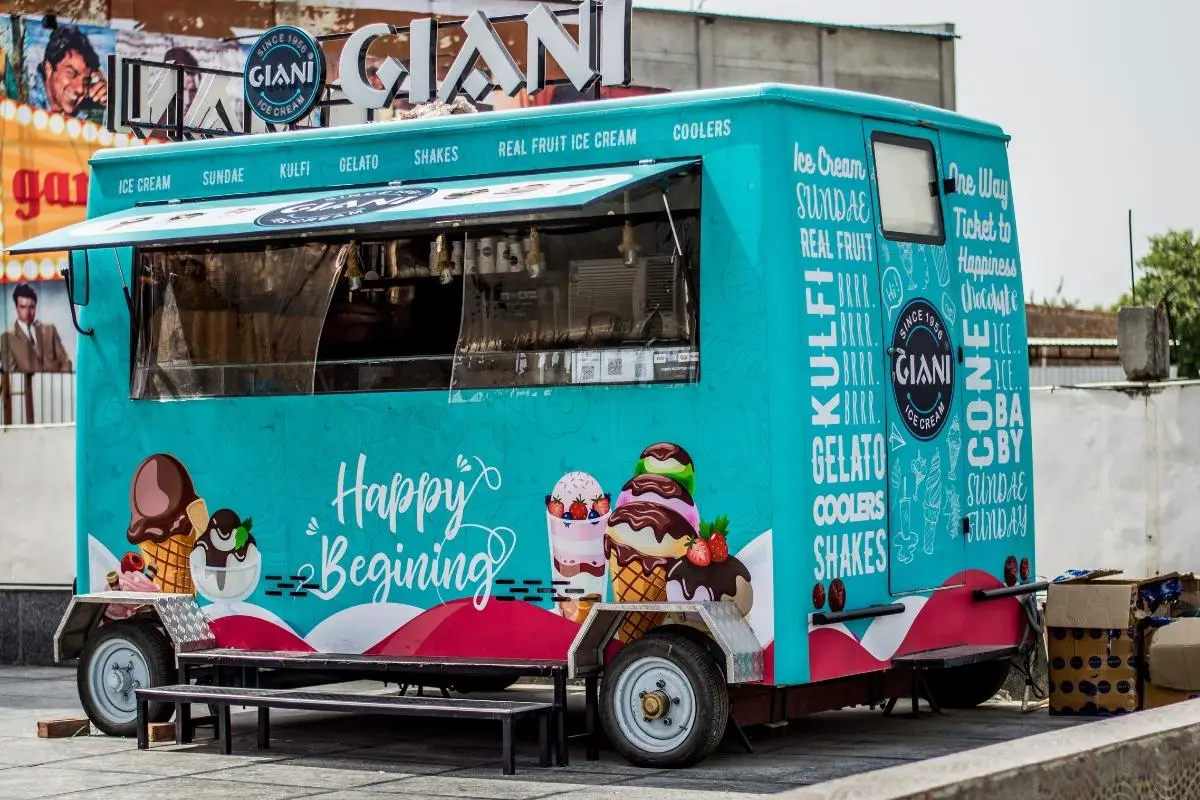 So if you want to find out what it's like to run one of these mobile restaurants, keep reading! We've put together this guide to help you navigate your way through the world of food trucks in Texas.
How To Start A Food Truck Business In Texas
Texas is a great place to start a food truck business. It's one of the most diverse states in America, with many different types of cuisine and lots of people who love good food.
There are also plenty of opportunities for you to make money selling your food. You don't need a lot of capital or special equipment to get started. All you really need is a vehicle, a kitchen, and a menu.
You may be wondering why we're starting our list off with how to start a food truck in Texas when there are already so many great resources available online. Well, we wanted to give you a comprehensive overview of everything you need to know about running a successful food truck business in Texas.
This includes information on licenses, permits, insurance, taxes, and much more. Plus, we'll tell you all about the best places to set up shop and provide tips on how to stay legal while still making a profit.
Create A Plan For Your Food Truck Business
If you're thinking about starting a food truck business, it can be easy to get overwhelmed by the amount of work involved. Between finding and securing a location, designing your menu, hiring staff, and more, there are plenty of details to consider. 
For these reasons, it is important to create a thorough plan for how your food truck will operate in Texas prior to starting the process.
You will need to consider all outgoing costs to get you started, along with projected costs to keep the business running.
You will also need to look into your competitors, and your projected estimated turnover to see if your food truck business is viable at all.
Your plan will also include details relating to necessary permits and licenses, along with insurance fees and staffing costs.
However daunting this plan might seem, it is a good idea to get everything written down in black and white before you begin to eliminate any unforeseen circumstances. 
Register Your Business In Texas
Texas is a great place to start a new business. It's got a low cost of living, and it has one of the lowest corporate tax rates in the country.
Before you even consider opening up for business you will need to register your intentions to operate. This is important because without formally registering your business, you will not be able to apply for any necessary licenses, permits, or insurances required to operate. 
Get A Food Truck And A Commercial Space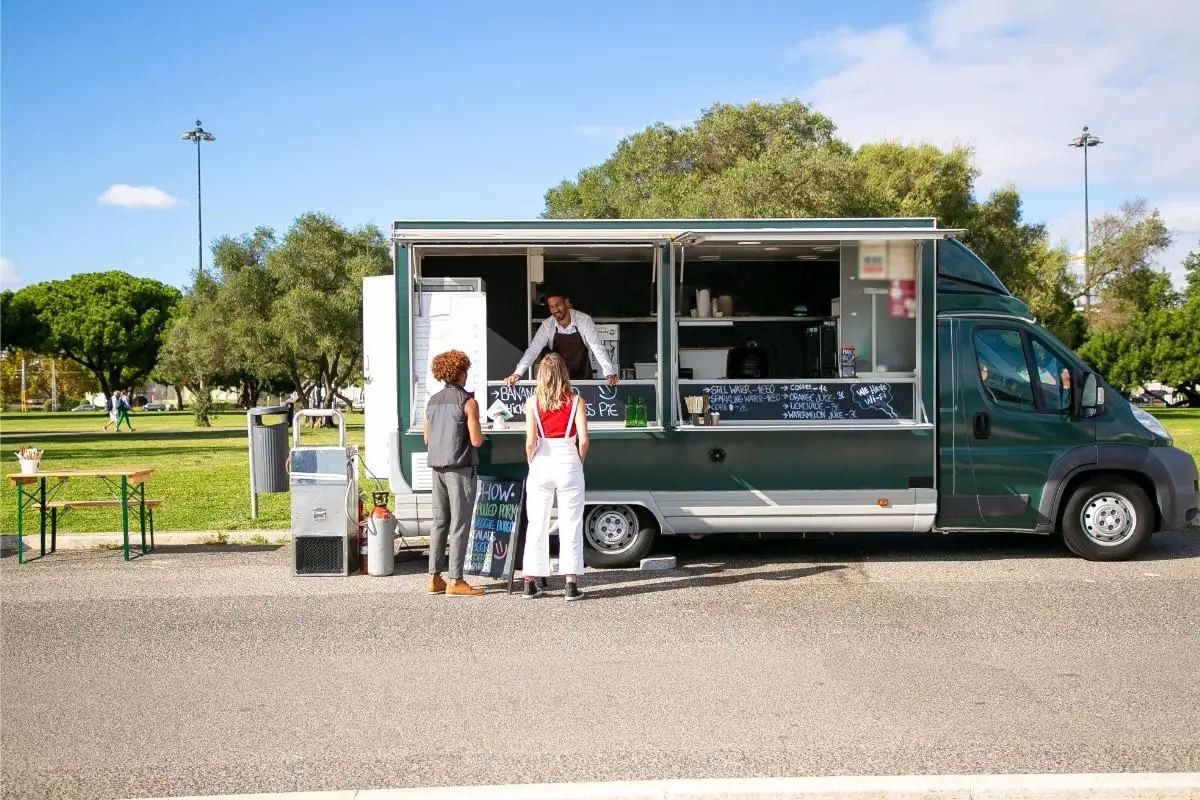 Food trucks are expensive to buy or rent. You'd be better off buying a used truck instead of renting one. Renting a truck may cost you more than buying one outright.
Make sure you think about how much your truck will cost before you decide to buy it. You should also plan ahead for any repairs needed.
Appliances aren't meant to be on wheels, so they frequently need repair. You might also think about your numerous food truck financings options such as loans and business credit cards.
It's a good idea to have a look at what is available in your local area via eBay, Craigslist, or social media marketplaces. Your food truck is likely to be your biggest expense, so you need to get it right. Be prepared to spend in the region of $20,000 to $60,000 depending on your location, and the size and age of the vehicle.
It's also worth noting that although older vehicles will be less expensive, they may be likely to need repairs more often. Similarly, if you buy a new van, you will need to cover conversion costs to create your food truck.
When you are looking for a commercial space for your food truck, there will be a number of factors to take into consideration such as:
Will you need to apply for a specialized license to park and operate from this location?
Will the space attract enough custom to make the business viable?
Will you have enough footfall to operate successfully at all times of operation?
Are there substantial competitors in the area? And if so, what will attract customers to your truck?
Obtain The Necessary Operating Permits And Licenses
There are three main types of licenses required to operate a food truck in Texas: a food vendor license, a mobile food service permit, and a mobile food trailer certificate. These licenses vary depending on whether you plan to sell prepared foods, serve hot food, or both.
A food vendor license allows you to prepare and sell food at events such as festivals, fairs, parades, and concerts. If you plan to do this, you must apply for a food vendor license before applying for a mobile food service permit.
A mobile food service permit allows you to sell prepared food from a mobile unit. You can only use this type of permit if you plan to sell hot food.
A mobile food trailer certificate lets you operate a mobile food trailer. This means you can sell prepared food from a trailer that has been specially designed for commercial purposes.
Mobile Food Service Permit Requirements
To qualify for a mobile food service license, you will need to pass a background check and meet certain requirements regarding health inspections, sanitation standards, and fire safety.
Your mobile food service permit application should include proof that you own the land where you intend to set up shop. You will also need to show that you have access to water and electricity.
You must obtain a $1 million general liability insurance policy prior to operating your mobile food service business.
You cannot charge less than $2 per meal unless you have a mobile food trailer certificate (which requires additional fees).
Food Vendor License Requirements
In order to sell prepared food at events, you must first obtain a food vendor license. However, you can begin preparing food without having a license. 
You must pay an annual fee of $10,000 to renew your food vendor license every year. Other criteria to adhere to obtain your food vendor license in Texas are:
You must maintain a minimum level of inventory. Your inventory is defined as any raw ingredients used to make food. It does not include finished products.
You cannot charge less than $2 per meal.
You cannot charge customers more than $5 for a single-serving item.
You cannot sell alcoholic beverages without the correct alcohol license
You cannot sell food outside of the state of Texas.
You must keep records of sales transactions and other related documents.
You cannot advertise your services using radio stations, television, newspapers, magazines, billboards, or flyers.
You must notify local authorities within 24 hours after moving into a new location.
You cannot charge different prices based on race, gender, sexual orientation, religion, age, disability, national origin, or ethnicity.
You cannot discriminate against anyone because they belong to a protected class.
You cannot refuse to provide goods or services to someone who belongs to a protected group.
Obtain Food Truck Insurance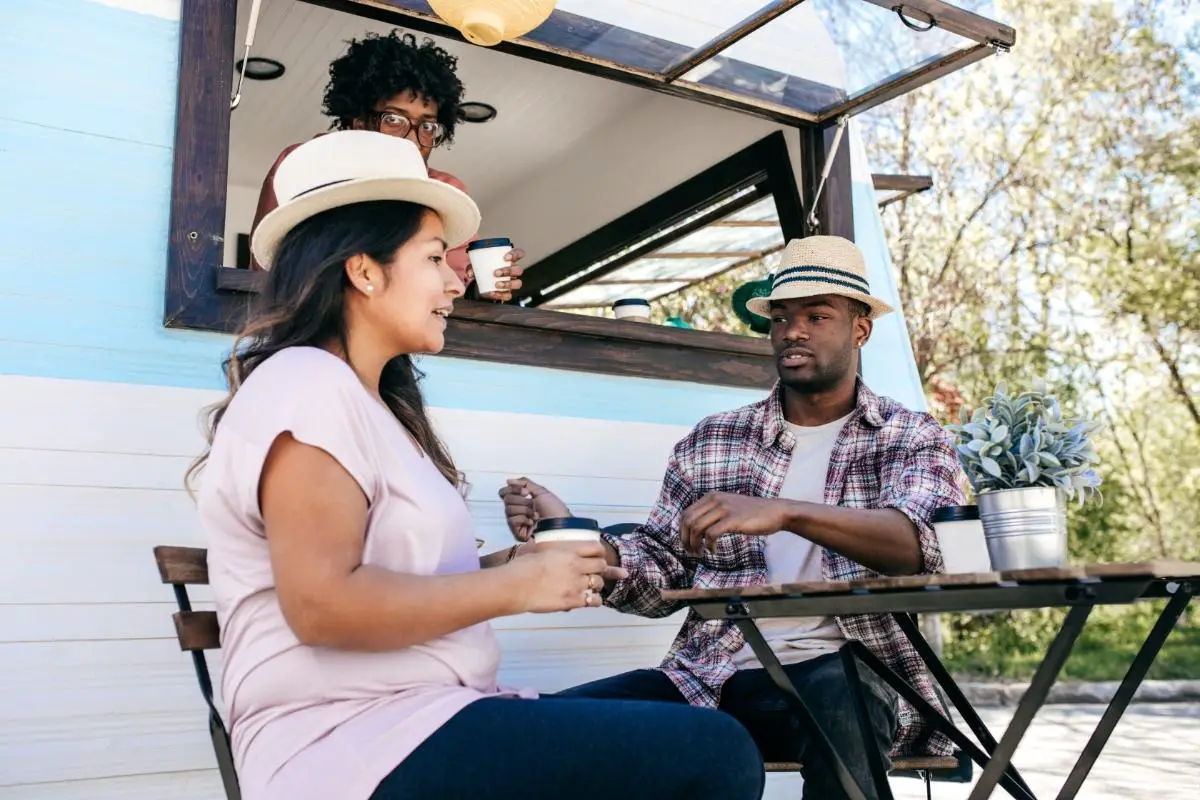 Food trucks are a great way to make money, but they're also a lot of work. The good news is that you can protect your investment by getting food truck insurance.
It's important to purchase insurance for your food truck because it protects you against accidents and other liabilities. It is recommended that you get liability insurance as well as property insurance.
Liability insurance covers you against injuries or damages caused by your food truck. Property insurance pays for any damages to the physical body of the food truck.
To protect yourself from lawsuits, you should carry general liability insurance. General liability insurance protects you against claims made by third parties.
However, this doesn't mean that you should only insure your food truck. If someone gets injured at your truck, you still need to file a claim with their personal insurer.
This is why it is important to always carry insurance on your food truck against both types of cover.
How Much Does A Food Truck Cost In Texas?
The purchase of your food truck is likely to be your most expensive investment. So it is important to get it right. You will need to consider if you would prefer to purchase a new van that can be modified to your own requirements, or an older truck that has already been set up to prepare and serve food.
There are advantages and disadvantages to both.
By purchasing a new van, you can design the layout to your own taste and requirements. You are also much less likely to need repairs undertaken in a short timeframe. However, a new truck will cost you a lot of money!
An older truck will have the benefit of being ready-to-go from the off. However, an older truck will be likely to need some work done to it over time, and might not have the lifespan of a newer van.
Depending on where you are based in Texas, and the age of the van, you are likely to spend on average between $20,000-$60,000. 
Can Food Trucks Sell Alcohol In Texas?
If you'd like to serve beer at your food truck, then you must obtain a beer/wine vendor license from the state. This license allows you to serve beer and wine at your food truck. If you would rather just serve water, then you can use a beverage vendor license instead.
These licenses cost $50 each, but you only need one per location. There are two types of beverage vendors: full service and self-service. Full service means that you can pour drinks for customers. Self-service means that you can only serve drinks for yourself.
Food Truck Inspection Checklist In Texas
The Food Safety Modernization Act (FSMA) requires that all food establishments, including restaurants and other retail foodservice operations, must be inspected by a state or local health authority to ensure compliance with the law.
The U.S. Department of Agriculture (USDA) administers the FSMA program through its Food Safety and Inspection Service (FSIS).
Texas has adopted many regulations related to food trucks. Here are some of the most important ones:
1. All food trucks must comply with federal and state food safety standards.
2. All food trucks must be licensed by the Texas Health and Human Services Commission.
3. All food trucks must display their name on the side of the vehicle.
4. All food trucks must follow the same rules as brick-and-mortar restaurants when it comes to sanitation and cleanliness.
5. All food trucks must post a sign in plain view informing customers of how long they will be open for lunch and dinner.
6. All food trucks must pay sales tax on all products sold.
7. All food trucks must maintain an inventory of food and supplies.
8. All food trucks must keep records of every sale made.
9. All food trucks must carry liability insurance.
10. All food trucks must purchase a commercial driver's license if they drive more than 20 miles away from their licensed address.
The Best Food Trucks In Texas
There is no shortage of really good food trucks in Texas, and whatever you're looking for, there will be a truck for you. There's no way we could list all of our favorite food trucks as there are simply too many! So here are our top 3:
>
This Austin classic has people from all over America visiting to try their famous Mother Clucker burger or their quirky Flying Pig (served with maple syrup icing and bacon). 
Take a look at their menu and you will see why they are so popular! 
>
If you're looking for a truly delicious sandwich, then the waffle bus has got you covered! Cooking up a storm from buttermilk fried chicken to Nutella and banana waffles, there's something for everyone!
>
Based in Houston this food truck serves up a mixture of Mexican and Korean-inspired dishes from Tacos to their famous 'Og Burrito' which is a combination of cabbage, bulgogi beef, and french fries. Their spicy 'el scorchio' sauce is also something not to be missed!
Frequently Asked Questions
What Is A Food Truck?
A food truck is essentially a mobile kitchen. It's a vehicle with cooking equipment on board. You order at the window or via a smartphone app, and the food is delivered to you in a matter of minutes. Some trucks offer seating inside while others don't.
Where Can I Find Them?
Food trucks can be found all over town. They're usually parked near busy areas such as parks, shopping centers, or major roads. If you see a truck parked somewhere unusual, chances are it's not a real restaurant. Instead, it might be a pop-up business selling food from another location.
How Do I Order From The Truck?
You'll find that most food trucks have a window where you can place your order. Lots of trucks now have websites or apps that you can order through too.
How Can I Pay For My Meal?
Most food trucks accept cash only. However, some do take credit cards. 
Is It Safe To Eat At A Food Truck?
Yes, it's safe. Food trucks follow health codes just like restaurants. They use clean utensils, wash hands after handling food, and disinfect surfaces regularly.
Are Food Trucks Legally Protected?
In Texas, food trucks are protected by state law. This means that they cannot be fined for serving food without a permit. Additionally, they cannot be forced to close down if they sell less than $5,000 worth of food per year.
Why Open A Food Truck In Texas?
The food truck industry is booming in the United States. It's a great way to start your own business, and it can be profitable if you have the right idea. However, not all states are friendly towards food trucks. In fact, some places outright ban them.
Texas is not that State! Texas is proud of its food truck community and food trucks are a thriving addition to the food industry throughout Texas. 
Texas is also known for its great weather, great people, and busy thriving communities. Texas has everything necessary for your food truck to thrive.
Conclusion
As you can see from our handy article, if you want to open a food truck, then Texas is a great choice.
Hopefully, with the help from our in-depth guide, we've got you covered in all things food trucks, and what you need to know and do to get started.
We also highly recommend visiting the trucks we've mentioned if you get the chance to. You will not be disappointed! Call it market research!
Latest posts by Hilary O'Shea
(see all)