Whether you're on the hunt for big Southern soul food, authentic Mexican, vegan eats, or something more exotic, you can find it on Austin's streets.
The capital of the loud and proud southern state of Texas, Austinites don't enjoy doing things by halves, and it shows in their food.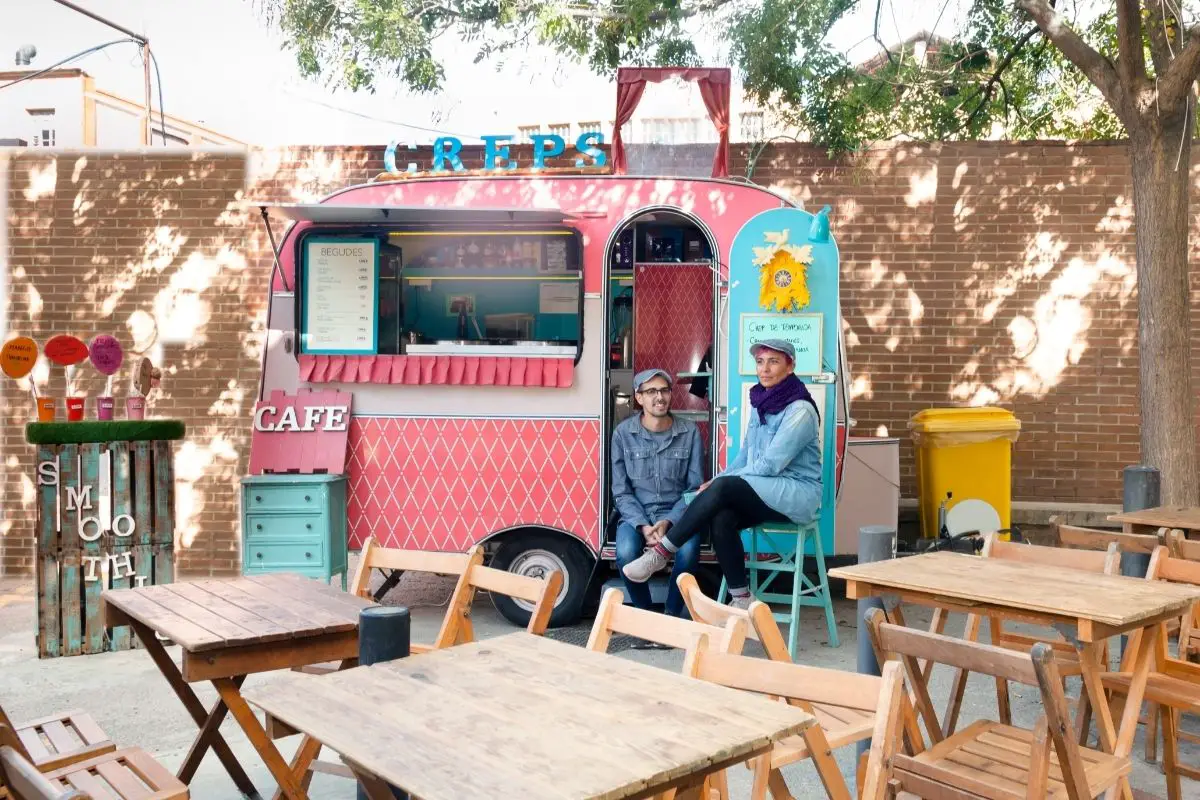 Expect honest portions, fair prices, and friendly vendors when scouting the streets of Austin to satisfy that ravenous hunger. 
Making sure to keep things nice and varied, because, well, we all like to eat differently – this article is ready to showcase what street-eating in Austin is all about.
Food trucks are around every corner in Austin, and with competition so fierce, only the best survive. We hope you're hungry!
When you're in a ravenous bind, it is hard to deny the tender and crunchy delight that is fried chicken. What makes it even harder is when the Spicy Boys are serving that fried chicken.
With two thriving food trucks in Austin, Spicy Boys is hands down the place to go when it's time for some finger-licking fried chicken.
The Spicy Boys know the importance of a great sauce to smother over great chicken, which is why they have a bunch of dipping sauces with varying levels of heat, that come ready to rock your socks right off.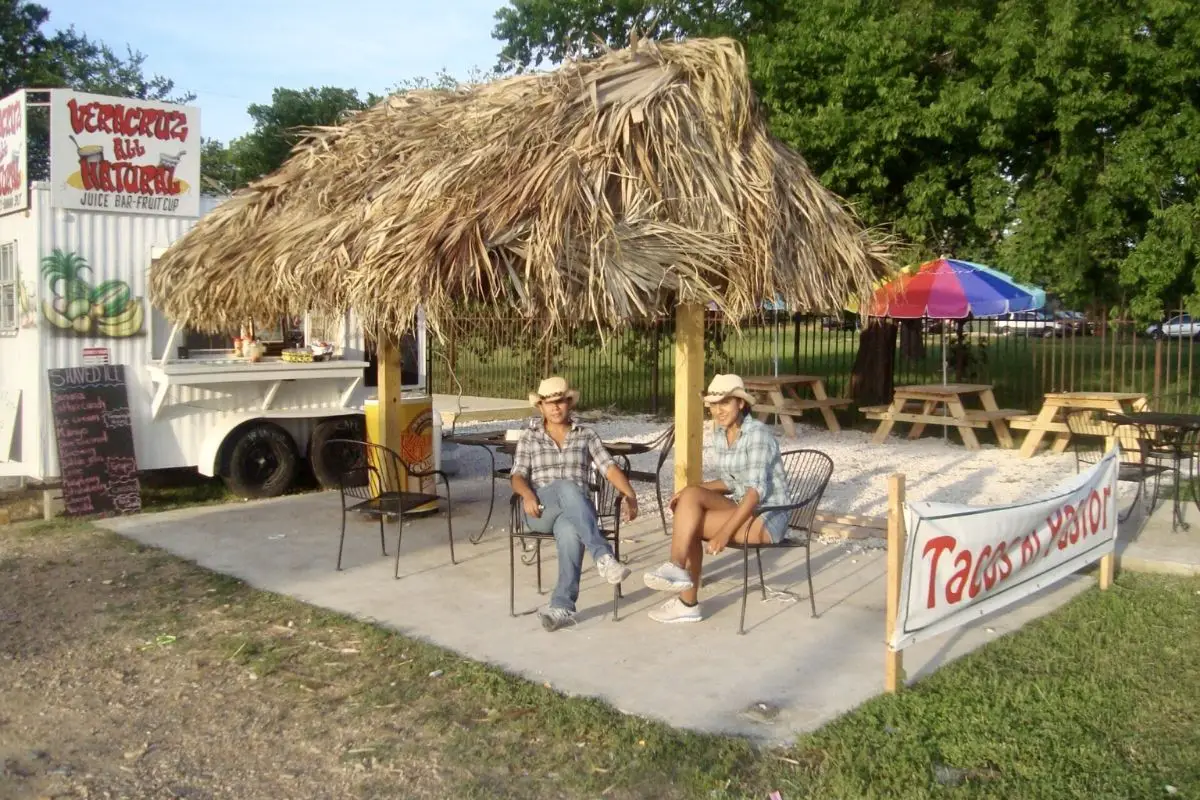 The two best friends behind Veracruz All Natural have built up their internationally recognized food brand through determination, grit, and very good food.
What started as a dream way back in 2008 has grown into a five-strong food truck fleet and they ain't done yet.
Expansion is always a worry in the food industry as it poses the risk of a slide in quality, thankfully, Veracruz is not one of those establishments.
These two inspirational women serve up authentic Mexican food with a distinct grasp on their Grandmother's recipes of the past. 
Revolution's comfort-focused vegan-eats are so dang delicious that even big-time meat-eaters don't mind stopping by for their fill.
If you are vegan, then you really have hit the jackpot with Revolution, as they are on the front line of the plant-based takeover.
Buffalo chicken wraps, jackfruit al pastor, chili dogs, Philly cheesesteaks, and with a vast selection of tacos and burgers – the Latino guys behind Revolution know the way to your heart.
They also do specialty menus and offers when the time is right. This makes an Insta follow essential so ensure that you aren't late to the party, and left on the curbside empty-handed and hungry. 
Conveniently located right alongside the Gibson Street Bar, Luke's Inside Out sandwiches are the answer to every drinker's prayers. Luke serves a no-fuss, big flavor menu of French-inspired sandwiches, and you will catch nobody arguing about it.
Although big on his meat with fried chicken, beef brisket, jerk pork, and the sirloin burger regular fixtures of his menu, Luke always makes sure there's at least one veggie/vegan option for the meat-free eaters too.
Every sandwich is well-priced, served with chips, and comes with the choice of upgraded sides like crinkle cuts, loaded fries, slaw, or salad, and nobody argues about it.
A stop by Patrizi's isn't just a quick-fix and shoot kind of place, you come to Patrizi's when you have time.
You will find Patrizi and her famed hand-pulled pasta permanently parked up at The Vortex, which is a haven for good music, better wine, and simply divine food.
The difference between what Patrizi is offering to almost every other pasta establishment in Austin is her time.
Home harvested honey, homegrown tomatoes, homemade sauces, hand-pulled pasta, a lot of passion and time goes into creating perfection at Patrizi's, and it shows in everything she and her family touch.
Give a trip to The Vortex the time it deserves and immerse yourself in this buzzing enclave of good Austin living, you won't walk away empty-stomached, or disappointed. 
The culinary maestro behind Ceviche 7 grew up in Peru, and in Peru, ceviche is no joke. So important to the Peruvian people is ceviche that it is now recognized on a heritage level, and even has a national holiday declared in its honor.
Yes, ceviche 7 does insanely fresh ceviche that leans on a delicate mix of citrus and spices to be brilliant, but that's not all ceviche 7 is good for.
Their menu has something to satisfy every hunger, serving stir-fries, sandwiches, fried rice, chicken skewers, and even beef's heart to the brave.
Every dish has a distinct South American flavor and the word on the street and in the magazine reviews is that the food lives up to its hype.
Queen Sassy has turned the idea of real-deal Southern soul food on its head by dishing up a strictly vegetarian selection of dishes.
Hearty stews, cajun vegan mac-n-cheese, beefy vegan meatballs, mustard fried Poke Chop, cornbread, and good old-fashioned soul bowls can all be gobbled down at Sassy's.
Taking a trip down to Sassy kinda feels like coming home, as the food is so comforting, you will feel like you're sitting down for Sunday lunch with the family.
In fact, that's exactly what you should do, leave any preconceptions and pretentiousness behind, and cruise on down to Sassy's on Sunday, with the family, for lunch, and try to walk away unsatisfied. 
Plow Bao is another plant-based powerhouse of the Austin food truck scene. Open from brunch through to dinner every day of the week except Mondays, the guys behind Plow Bao love what they do, and you will too.
Their enticing brunch-ey bits like the scallion pancake wraps, breakfast bao tacos, and French toast bao sandwiches are exactly what the doctor is ordering after a night out. 
Brunch aside, their bao and dim sum menu keeps it simple but ensures very high-quality across the board.
Find this plant-based bao heaven at the Riverside Fort, or, jump on Uber Eats and order your bao take-out for when leaving your home is a laughable idea. 
Serving up authentic Haitian cuisine to the good people of Austin for more years than you'd like to count, TV famous Chef Nahika Hillery is the firepower behind this Austin street food institution. 
When a food network featured chef is keeping it real on the streets with her generationally-certified Haitian eats, you just know you're in for a seriously special treat.
Every dish Nahika features on her menu is a vibrant representation of its origins, with both the sweet and fiery sides of the Caribbean mixed through all that she serves. 
Dee Dee is where all Austinites go when they want authentic Thai food. Meaning "good good" in Thai, this famed food truck is owned by a dynamic husband and wife duo who know a thing or two about food.
Growing up in the northeast countryside of Thailand, Lakana is a trained chef who loves to champion her country's bold flavors and fresh ingredients by serving them every day to the people of Austin.
The menu at Dee Dee's is purposefully minimal, choosing to perfect a select number of authentic dishes instead of trying to offer it all, and it shows.
What Lakana and her husband Justin have managed to offer is a delicious slice of real Thailand cooking and life. 
Summary
Austin is a city that looks to its food, music, and people for inspiration. As is evidenced by the featured food trucks above, at least where its food and people are concerned, Austin couldn't be more eclectic if it tried.
We hope this trip around the streets of Austin has inspired you to try some new and exciting flavors next time you're in the big Southern city of Austin.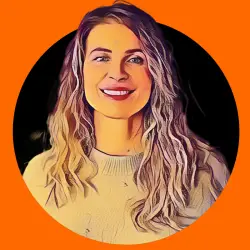 Latest posts by Denise Zanman
(see all)