There's some amazing food to be found in the increasingly popular world of food trucks. It's no shock that they've taken over the culinary world, they provide incredibly tasty food in a truly unique form.
Who doesn't love the idea of rocking up to a food truck, ordering delicious food, and then receiving it in mere minutes? 
Even better, food trucks are great social spaces to bring your friends to enjoy shareable food all while enjoying the sunny weather and the open air, and they can often be found at many a special event!
However, with so many food trucks out there to choose from, especially within the Arlington county area alone, it's almost inevitable that there will be some disagreements over where you all should eat.
Do you want to curb any arguments before they arise? Good thinking. You've definitely come to the best place.
We've dedicated ourselves to finding the absolute best food trucks in the Arlington area so that you can find the best food truck experiences to satisfy all of your friends. 
Read on below to find out what some of the best food trucks in the Arlington area are, and what amazing treats they serve!
'A Toda Madre' is an expression used to describe something truly amazing. And it is certainly a worthy name for this Mexican food truck which boasts a menu that is worth shouting about from the rooftops! 
The team behind A Toda Madre works out of a very small and humble food truck but manages to create immense and impressive worlds of flavor for every single customer that turns up.
We were seriously impressed with just how much these guys were able to pull off, even on the busiest of days. 
Every customer leaves satisfied and is given service that is friendly. The team behind A Toda Madre really makes an effort to ensure that you feel welcome.
Try out their guacamole which comes with a host of tortillas to dip, their recipe is simple but oh so satisfying!2
Abunai has created a truly unique fusion here in their food truck. The truck is run by a woman with both native Hawaiian and Japanese heritage, and it's clear to see how her heritage has influenced the great food that she makes.
You might have noticed the recent popularity of poke bowls, delicious bowls of fresh ingredients piled atop a bed of rice. Well, we can tell you with certainty that no one does them quite like Abunai. 
Abunai's host of poke bowls are fulfilling and full of fresh and healthy ingredients to fuel your day. And make sure to try out their spam katsu for a unique twist on the immensely popular katsu dish.
Want some delicious and traditional Filipino food? There's no place better to go than the Taste Of The Pacific food truck. Their food is all made using traditional methods and using traditional recipes handed down for generations.
From crispy and tasty egg rolls to delightful skewers of perfectly cooked meat, there's something for everyone, and everything is made with the utmost care and passion.
You'd think it would be easy to get tired of tacos after a while, but with culinary geniuses like the team behind Tacos Los Primos actively seeking to bring the art form into the future, there's never a shortage of new and exciting flavors that still very much honor tradition. 
Make sure to try out the carne asada. It very quickly becomes the talk of the town whenever the Tacos Los Primos food truck pulls up near you.
Or why not try the immense chicken and sausage torta? It's stuffed with ingredients and contains the most heavenly softy bread you've likely ever tasted.
The team behind this truck has a great passion for what they do, and it really comes through in every single bite!
Sometimes we find ourselves really craving traditional Vietnamese food, but finding truly good Vietnamese food proves to be quite an endeavor.
You want to find Vietnamese food that is made with passion and love, and that has been made by someone with a great degree of knowledge of the cuisine. 
Luckily, this is where the Bon Me food truck comes in to save the day! They have a whole host of amazing menu items that show off the delights of Vietnamese food in an interesting and vibrant form that you've probably never experienced before. 
Try out their range of crispy spring rolls, or even the banh mi, which is an amazing baguette sandwich that is then stuffed with loads of meat inside.
The best thing about Bon Me is that their famous pho recipe is made with genuine bone broth that is stewed carefully and precisely, and does not come from any flavor packets. 
Finally, the British staple of fish and chips makes its way to American shores in its true form. There's no playing around here, these are true fish and chips just as they are supposed to be served! 
This food truck is run by a passionate team that is actually partly made up of British chefs who have a great knowledge of how true fish and chips should be made and should taste. 
If you've been let down by fish and chips in the past, prepare for that to all be ancient history. The fish and chips here are full of warmth and flavor.
Every bite of fish is coated in a melt-in-your-mouth layer of batter, and the chips make for a perfect accompaniment, especially when dipped right into some tartar sauce! 
We still cannot get over how well this place manages to get fish and chips just right. It's truly worth your time.
Fried chicken hasn't tasted this good since it was first invented! You'd probably be surprised at just how many things you can do with the humble and perennial favorite of fried chicken. 
From simple chicken dippers that you can dip into any condiment or sauce of your choosing, to fried chicken sandwiches that provide a feast of soft and crispy sensations, there is so much to discover with Roaming Rooster.
This business still operates out of a food truck very regularly, but they also have their own brick-and-mortar location right in the heart of Skyland Town Center in Washington DC, so if you are ever in that area too, then you'd be foolish not to pay them a visit!
A passion for fried chicken has never been clearer than in the extensive menu of this amazing food truck! We strongly recommend trying out the delicious honey butter chicken burger and the Nashville hot chicken burger.
The former has a great and soft sweetness, while the latter has a fiery kick that will wake you right up!
Regularly found across the Arlington area, and very often at local outdoor events, Little Miss Whoopie is a great place to go for a colorful, sweet, and wholesome treat to share, or just to indulge in by yourself! 
Their menu is truly incredible, with such options as red velvet whoopie pies, chocolate chip cookie whoopie pies, and mini birthday cake whoopie pies!
There's so much to choose from, and each and every one of their treats is like pure baked heaven. 
And if you are on a vegan diet, then you don't have to miss out, as they also offer their popular chocolate whoopie pie in a vegan alternative version that is completely plant-based!
You owe it to yourself to a visit to Little Miss Whoopie, they are the heroes of the baked treats world! 
Nothing is quite as soothing as Southern American food. Gumbo, po boys, red beans, and rice. There's so much comfort food right from the south that it's no surprise that a food truck like Puddin' should prove so popular.
And Puddin' certainly knows how to make amazing and deeply warming and comforting food. Do you love yourself a hot dog or a stuffed sandwich? How about a delicious and well-seasoned chili? You won't find better anywhere else.
We strongly recommend, of all food items, the shrimp po boy, Puddin' spares no expense when stuffing your sandwich full of shrimps and plenty of fresh veg, and sandwiching it all between some incredibly soft bread that seems to melt within your mouth. 
Golly Waffles makes for a great final treat to cap off a great day. We all love waffles, and we love how amazingly tasty they can be. Now imagine if you could eat a delicious waffle all on one stick! 
The greatest selling point behind Golly Waffles is their range of waffles on a stick that are baked fresh right from their own truck.
And not only do they make sweet waffles, such as their amazing Reese's Cup flavor, but they also create a host of savory variations, such as their delicious spicy corn dog waffles which have a delicious Weiner right in the center!
To Conclude
We hope we've managed to settle any arguments over where to go for dinner tonight! There are so many amazing food trucks in the Arlington area alone, so it is easy to feel overwhelmed. 
If you're not sure where to go, just choose one of the ten food truck vendor we've listed above, and you are sure to find something that pleases everyone in your group and creates memories that you can all share and reminisce on forever!
Frequently Asked Questions
What Makes A Good Food Truck?
A good food truck needs to be able to offer quick and reliable service, and also to be able to create consistently high-quality food that always satisfies customers. 
A food truck also needs to be able to stand apart from its competition, preferably with a unique selling point, such as a unique twist on a classic burger.
How Can I Make My Food Truck Stand Out?
A great way to ensure that a food truck stands out is to ensure that it looks unique. Paint a food truck a vibrant color, or adorn it with your logo, or a large mural that represents what you have to offer.
This can be a great way to stand out in a crowd, and draw the curiosity of potential customers. 
Where Are Food Trucks Most Successful?
Food trucks tend to see the most success in highly populated areas, where more people are likely to find them.
They also generate a lot of their profit by operating at festivals and outdoor events where there are plenty of hungry and paying customers who want to enjoy their food outdoors.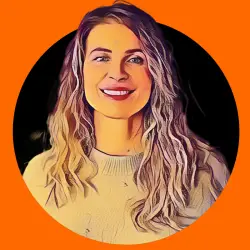 Latest posts by Denise Zanman
(see all)