Do you love food trucks? If so, you're probably wondering what some of the best food trucks in your local area are. Do you live in the Fresno county area and want to find the greatest food trucks and Fresno street eats? You've definitely come to the right place! 
Nothing quite beats the simple pleasure of food truck cuisine. Rocking up to a small and humble kitchen run by passionate chefs and then receiving delicious food that you can enjoy alone or with friends is such an easy process that it's no surprise that food trucks have taken over in such a big way.
But finding the right food truck is where the difficulty comes into play. With so many options, there's the constant worry that there's a food truck just around the corner that is a little bit better.
If you want to avoid the endless hunting for delicious food trucks, then simply take a look at our comprehensive list of some of the best food trucks in the Fresno area, and allow your imagination to go wild with the possibilities!
Read on below to get started.
>
Meltdown couldn't be a more appropriate name for this amazing food truck. Everything they serve is practically oozing with flavor, especially layers of melted cheese that make every bite of their food immensely satisfying. 
Even their side dishes are in on the meltdown action, as evidenced by the loaded tater tots which are drenched in decadent cheese, bacon, sour cream, and green onions to create a delicious side dish medley.
And you have to try the fried mac and cheese balls. They are simply out of this world, and make the most of the soft texture of macaroni, contrasting with the crispy fried texture.
Of their main dishes, we love to recommend the Cubano Melt, which has stack after stack of 14 hours of slow-roasted pork, grilled ham, Swiss cheese, pickles, and mustard all sandwiched within lightly toasted bread.
The softness and delicate flavors of the meat make the sandwich extremely easy to eat and savor with every single bite. However, you should also make sure to try out their other sandwiches, as each one has its own sense of flavor. 
>
Fresh ingredients mixed together to create amazing dishes and served with love and care are the aims of the Gastro Grill. This very popular food truck can be found regularly at popular spots in Fresno, or even at local outdoor events.
It is easily one of the greatest Fresno street eats. Every time, they attract droves of customers who cannot wait to get their hands on the delicious food inside. 
Amongst their most popular dishes are items such as the filet mignon tacos, and their simple but genuinely perfect grilled cheese. You've also got to try out the shrimp tacos, they have a great sense of flavor, and a number of interesting textures to make every single bite interesting, rich, and satisfying.
And if you ever have any questions or concerns, make sure to bring them up with the team behind the Gastro Grill. They're incredibly personable, helpful, and more than willing to make any accommodations you may need.
>
Empanadas are delicious Spanish turnover pastries filled to bursting with savory fillings. If you've ever wanted to try out these delicious treats for yourself, then look no further than this amazing food truck in the heart of Fresno.
This food truck makes easily the best empanadas we've ever had the opportunity to taste for ourselves. Every bite is oozing with flavor, and you'd have a hard time resisting the opportunity to go for seconds.
Make sure to try out the chicken empanada, as well as the chile verde empanada. These treats have a crunchiness thanks to the frying process, but the fillings still remain soft and flavorsome. These guys have managed to strike an incredible balance between subtle and satisfying flavor and blow-your-mind extravagance! 
>
If you've ever wondered where the good food is hiding, then we can tell you that it is definitely to be found in this incredible food truck. 
Fries, egg rolls, tacos, and burritos are just a small number of the amazing cacophony of foods that this truck delivers on a daily basis. No matter what you are craving on any given day, these guys have just the perfect solution for you. 
We recommend trying out the piggy fries. They're loaded with yummy toppings that make every single fry into a flavor vessel that will have your mouth exploding with taste. This makes for a great dish to share out amongst friends, or even to indulge in all by yourself.
And be sure to treat yourself to the surf and turf tacos, they're incredibly easy to eat but will leave a trail of great flavors in your mouth that make resisting seconds nigh impossible!
>
The sticky, decadent, and rich flavor of a fresh cinnamon roll are pretty well unparalleled. Not only do these make for great indulgences all for yourself, but they're also incredibly easy to share out thanks to their soft textures and simple shapes. 
The trouble is, many places that serve cinnamon rolls only serve the most basic variety, which can be particularly frustrating for anyone looking for some slightly more exciting cinnamon rolls. If you're someone who wants some excitement from their cinnamon rolls, then look no further than this amazing food truck right here. 
The Cinnamon roll shack is bringing the classic American favorite right into the 21st century, thanks to their new recipes such as their caramel-drenched cinnamon rolls, or their raisin or walnut-topped rolls which provide an extra sense of texture to every bite.
And if you want your cinnamon roll goodness to last longer, then you can also purchase cinnamon roll bundles with a combination of your choice of flavors! This is a great way to buy some to share with family and friends.
>
Visiting this food truck is like getting a fresh taste of Rome! This food truck is actually Fresno's first Italian food truck, which allows you to access tasty pasta, spaghetti, and carbonara dishes. 
And if you want side dishes and extra treats, then you should also make a point of pursuing their appetizers and side dishes. The meatball appetizer makes for a great way to experience the deep, complex, but satisfying flavors of Italian food, with four meatballs of distinct flavor.
And make sure to try the mozzarella sticks, the stretchy and mild tasting cheese contained within makes them easily one of the most decadent side dishes we've had the joy of trying. They pair so well with the spicy carbonara, which has a slightly fiery kick, and chicken, bacon, peas, parmesan, and basil to create one great dish!
>
If their name didn't already make it clear, the masters behind this food truck are able to create an immense number of dishes with just a few ingredients they have within their humble food truck!
From hot dogs to chicken burgers, to fried chicken salads, there's something for everyone. And that's only naming a small fraction of the foods that they offer. 
For a dish that will satisfy every single one of your tastebuds, then you need to get your hands on the spicy fried mary's chicken sandwich combo. It comes packed with absolutely everything you could need, including decadent sandwiches and perfectly crispy fries to complement them. 
This amazing truck makes for a perfect replacement for any big-name fast-food chain, as they can produce their food in record times, and still come out with incredibly satisfying food! Why not give them a try today? The truck is run by a passionate team who cannot wait to give you their amazing food.
>
Need a sweet treat to finish off a long day? We don't blame you. Sometimes, nothing can quite beat a soft scoop of ice cream, a stacked sundae, or a banana split. Luckily, when it comes to sweet treats, Raspados El Diablito Loco has you more than covered! 
Their sweet offerings will leave you deeply enriched and filled and even make for great foods to enjoy with your friends or family. 
And this food truck doesn't just know how to make sweet delights, as they also have a sizeable menu of more savory offerings, such as the hot Cheeto esquite loco which employs the simple but effective flavor of hot Cheetos to create a dish that will set your mouth alight. 
>
"Ohana means family". This famous Disney phrase is more than applicable in this case, as the food vendors behind Ohana Shack feel like one big family of passionate chefs. 
If you were to pay a visit to the Ohana Shack in Fresno, you would be met with a fantastically friendly team who simply cannot wait for you to try out what they can make for you. 
When you do visit them, you simply have to try out their range of delicious poke bowls. Each one is packed with fresh ingredients that will have you feeling fulfilled, refreshed, and ready to take on whatever the day tries to throw at you. Ingredients include bountiful rice, plenty of fresh fish and an incredibly tasty sauce. 
And if you want something a little different, make sure to try out the Furikake Garlic Chicken which is incredibly thick, and full of that satisfying garlic flavor that we all crave! 
>
Vegan food has certainly taken the culinary world by storm. Not only is it a great dietary choice, but there are also numerous great vegan recipes and dishes that can deeply satisfy everyone, vegan or not! 
This food truck is paving the way for vegan alternatives to many classic American staples, such as cheeseburgers, hot dogs, burritos, and tasty fries. There is bound to be something here that you like, and you may even find that some of it taste much better than its meat-filled alternatives. 
You also don't have to spend loads in order to access this tasty but healthy food. All of it is highly affordable, made quickly, and to the highest quality standards. This makes this a highly competitive vegan option, especially compared to some other often-over-priced alternatives that cost you the earth. 
Why not give these guys a go? Whether you are a vegan or not, they are bound to have something that will delight you on their menu. It's truly incredible.
To Wrap Up
There are so many great food trucks and Fresno street eats that it is pretty easy to find yourself overwhelmed. Hopefully, our comprehensive list above has managed to help you find the inspiration you need to decide on dinner and to help you find simply the best of the best amongst the food truck industry.
Make sure to try out all of these food trucks that we explored, they all have something great to offer and provide you with unparalleled service and quality food. And make sure to also try out some other food trucks that didn't make our list, if you see them, it is very likely that even they will have something to offer you.
Frequently Asked Questions
Can You Get Rich With A Food Truck?
Provided you invest a good enough amount of time into your marketing, your pricing, and your products, it is definitely possible to make a massive profit from a food truck. However, you would have to ensure that your product prices are fair and that you are drawing in enough customers to be able to make a steady profit. 
Where Are Food Trucks Most Successful?
Food trucks tend to perform best in highly populated areas, or in areas where there is plenty of foot traffic, even if temporarily. This is why you may often find food trucks setting themselves up at festivals and other outdoor events, where they can guarantee that there will be hungry paying customers. 
What Sells Best On A Food Truck?
Some of the foods that sell best on food trucks include hot dogs, burgers, grilled cheeses, and fries. This is just to name a few of the most popular. These foods are easy to eat with your hands, which is perfect for how they are served.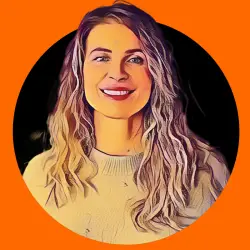 Latest posts by Denise Zanman
(see all)