Known as "Indy" to its people, Indianapolis is the most populous city of Indianapolis and its state capitol. Playing host to the famed Indy 500 motor race each May – it's people like their engines big, and their motors running.
Fast cars and big engines aside, Indianapolis is a well-designed city that has a good grasp on its past, and many green spaces, memorials, and museums. 
Kicking it in the park and learning your history is cool and all that, but do you know what's even cooler? Good food, that's what's cooler! With a growing population edging toward the one million mark, Indianapolis is a city on the up, and, as a result, its food scene has exploded in recent years.
Whatever eats tickle your fancy, Mexican, Puerto Rican, Caribbean, Southern comfort, whatever it is, you can find it being served with a smile on Indy's streets. Come and discover the food trucks that have already caught the attention of Indianapolis, and are ready to catch your next. 
>
Serving you exactly what you know, and exactly what you want, Chomp'z does good old-fashioned comfort food very well. Burgers, tacos, nachos, loaded fries, pulled pork sandos, whatever food satisfies the soul, Chomp'z is cooking it. 
Chomp'z is a local Indianapolis operation through and through, parking up wherever its good people are headed and serving them lunch.
For this reason, checking out their weekly schedule is imperative to chomping down on some Chomp'z. Not only will they be waiting to take your order at your local fairground, or festival. But, Chomp'z is very good at and would love nothing more, than to put on a people-pleasing spread at your next special event. 
Buffalo shrimp mac…. pic.twitter.com/l9GzwxdZEs

— Taste The Caribbean (@Caribbean_Taste) July 21, 2020
>
Let Taste Of The Caribbean transport you straight to Jamaica with their spiced bites. Curry goat, jerk chicken, coconut shrimp, crawfish – these are the types of dishes you'll be pleasantly presented with when stopping by this tropical outfit. 
If you're trying to keep it light, then they can do you up a salad with a portion of what's listed above. If you prefer to have your grub slapped between two bits of bread, then you have got to try their jerk chicken sando, or the grilled eggplant for the veggies.
For the crew who have worked up an appetite that only the biggest portion will satisfy, then it's all about the platters. With sides like rice & peas, sweet plantain, and coco bread, you could be mistaken for thinking your roadside in Kingston, but, even better, Kingston has come to you. 
>
Grilled pizza may sound like a radical idea at first, but you know what they say about front covers! Hitting the streets way back in 2011, Byrne's Grilled Pizza has been a mainstay of Indy's food truck scene for a while now.
As is the natural progression for many of the best food trucks, once they've proven themselves in the streets, they look to bring their passion to the restaurant trade, and that's exactly what Byrne's has done. 
Luckily, you can still find their O.G. truck doing the rounds across Indy through the summertime and at special events where people need their pizza. This is a family-run business that was built from the ground up.
Through good food and a desire to succeed they're now so established it's hard to tell where Indy starts and grilled pizza ends. Their expanded menu now does sandos, pasta, and salads, but don't worry, they're still slinging their classic grilled pizzas too. 
>
To put it lightly, when you're in need of an oversized burger to do a number on you, you go to Box. Bigger is better in the burger world, and nobody does them bigger or better than Box. The guys behind this big-time burger operation thru the carb-counter out their truck window a long time ago and chose a bolder future for their burgers. 
You know how the quarter pounder is a pretty big deal right? Well, you can also throw this industry standard out the window too, as Box only deals in thirds. Their ⅓ pound certified Black Angus beef, ⅓ pound chicken, ⅓ pound tenderloin burgers are a few of the bigger undertakings you'll ever sign up for.
For the kids, they also do a ⅙ pound junior size in all their flagship burgers, because feeding kids ⅓ pounds of meat just doesn't sit right, not in their stomachs, nor otherwise. 
>
This old-school outfit has been bringing the flavors of the Mississippi Delta and the Louisiana Bayou to Indy for more years than you'd care to count. With a lineup of po'boys that you can't get anywhere else in Indy, Chef Dan's is ready to serve you alligator, crayfish, catfish, southern fried chicken, with the fried shrimp being an all-time classic too.
On top of their impressive seafood po boy menu, Chef Dan's Louisiana influence can be sampled in the Cajun seafood platter, and Jambalaya, which is both must-tries when in town.
Seal the deal on this big southern meal with some banana pudding for dessert, and you'll understand why Chef Dan's ain't going anywhere, Indy needs this food truck. 
>
Donating 10% of their sales on any given day is what makes As You Wish Wings stand out and proud. Having the best wings in town doesn't hinder their reputation either, and that's exactly what this no-fuss truck is slinging, the best in town.
They've got too many homemade sauces to list off now, but just know that whatever you're into, they're ready to serve it. 
If you love chicken but aren't too fond of gnawing around itty-bitty wing bones, their chicken tenders are a crowd-favorite too. To finish customers off after their wing-eating session, As You Wish have got the most adorable homemade cupcake selection to satisfy one's sweet tooth. 
Strawberry crunch, cookies & cream, lemon, and sweet potato are their regular flavors, but who knows what cupcake you may fall on. With 10% of their takings going towards Riley's Children Hospital, it'd be silly not to cave in to your childhood temptations with a cupcake or two. 
>
We love these women's sense of humor almost as much as we love their smoothies! Maui Wowi is all about spreading the Aloha vibes all over indy, with a delectable selection of smoothies, and coffees.
Not only are they serving your favorite real-fruit smoothies like mango/ orange, blackberry/ raspberry, strawberry, and kiwi/ lime/ and lemon, but they've also got an adults-only menu that's ready to rock your socks, right off. 
Their boozy smoothies will have you reaching for the hula hoop and doing the limbo in no time as you plan out your next move and your next smoothie. Their frozen margaritas are also extremely popular in the summertime.
At a festival, perusing a market, you may have the thought "it's 5 o'clock somewhere" and bam, Maui Wowi will be there with the fruity goods. 
>
The Latin Flavor may not serve the most authentic Mexican eats you've ever had in your life, but call us a liar if they aren't the tastiest. This Mexican street-style food truck takes all the Mexican classics and makes them familiar and delicious. Steak burritos, chicken tacos, loaded nachos, and our personal favorite, their torta sandwiches. 
If you're trying in desperation to keep the carb-counter down, then consider their Mexican-flavored grilled chicken salad as the lighter choice. If you like what you're hearing, you can also book the Latin Flavor for your next party, and give your guests something to truly sing about. 
>
Everyone's tried Mexican street food, but have you ever tried Brazilian? Gaucho's Fire is the only food truck in Indy doing big Brazilian BBQ and offering it up to the people. Their flame-grilled steak is what most people turn to, and you can order it with peppers and onions packed out in a sandwich. 
It's true, behind the grill is where Gaucho's feels most comfortable. However, they also prepare rice, salads, fries, and many types of mighty fine sides to go alongside their steak.
Although their food truck is only operational through the summer season, they are now permanently parked down at The Garage on Carrollton Ave, where you can delight in their BBQing prowess, from Thursday through to Sunday, every week of the year. 
>
Name someone who doesn't like Thai food? And we want to meet them and give them a stern talking to. Muay Thai Mobile Kitchen may sound like they're ready to fight, but the only fighting they like to do is with their authentic Thai flavors.
There's just something about Thai food that makes people come back for more, and Muay Thai makes sure to always put on extra in an evening, just in case you want to go in for another round. 
Pad Thai, Panang curry, teriyaki chicken, green curry, cashew chicken, garlic pork, this isn't fusion food, this is straight-up delicious Thai cuisine. Their dumplings and handmade egg rolls are particularly good at getting appetites into gear, especially when dipped in their soy chilli sauce. 
Summary
As you can see, Indy's food truck scene is almost as eclectic as the energetic and inspired people who show up, day in day out, to do what they love and serve you your food.
Whether you're looking for inspiration to kickstart your own food truck dreams, eat your way around Indy's streets, or simply find some lunch today, we hope you found some enticing bites inside this article.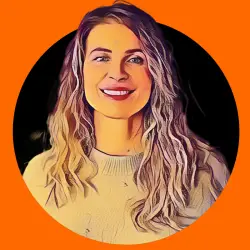 Latest posts by Denise Zanman
(see all)