New York City is a hub for amazing food trucks. 
There's every type of food truck you can imagine. From waffles so immense they can make even the angriest New Yorker calm, to tacos so fresh and delicious that it makes your mouth water just thinking about them. 
Yep, New York City truly is a place of wonders. 
In this article, we're going to highlight some of New York's most amazing food trucks, and they really are amazing. 
The Best Food Trucks In New York City  
>
If you love tacos, then you will adore Tacos El Rancho.
They're a Mexican food truck that sells some of the greatest tacos on earth. I mean, unless you were to actually go to México, you cannot get better tacos than this. 
Their tacos are made out of a soft corn tortilla. They serve a range of proteins — like chicken and beef, alongside lettuce, guacamole, and pico de gallo.  
If you want to try something different, Tacos El Rancho sells tons of burritos. There's grilled chicken, grilled beef burritos, and even a Puebla burrito (stewed chicken).  
If you're vegetarian or vegan, they cater for you, too! They have a whole veggie menu, including an incredible green burrito. It contains a spinach tortilla with rice, beans, lettuce, tomatillo sauce, and guacamole. It's amazing!
>
Okay, so, imagine doughnuts, but they're cooler. 
Imagine doughnuts, but they're actually made out of apple cider. Not just any apple cider, locally sourced apple-cider, along with organic flour. 
Yep! Welcome to Carpe Donut NYC, where you can find all-natural doughnuts! 
This food truck is by wife and husband duo, Jen Downey and Matt Rohdie. They had the fantastic idea for their doughnut truck in 2007, and New York has loved it ever since! 
We recommend trying the cinnamon sugar and chocolate glaze, but all of their doughnuts are great. 
>
So, if you haven't heard of King of Falafel, do you even live in New York? 
Maybe not, and that's why you're reading this article. 
Okay, so, from the beginning! 
King of Falafel is an iconic street truck. The owner, Freddy Zeideia, is kind of a local legend. He's been making award-winning falafels for years, which the whole community loves. 
He doesn't just sell falafels. There's also shawarma and kebabs. He has his iconic street truck in Astoria (Queens) that is a must-visit when in NY. 
>
Waffles make everything better, don't they? 
Wafels Dinges is a food truck located in the East Village. It's incredibly popular and sells Belgian waffles. They're pretty much the best waffles in NYC. They have amazing toppings, like cookie spread, Belgian chocolate, and even maple syrup. Plus, they serve Belgian hot chocolate, which is divinely delicious. 
>
Okay, what's more American than a grilled cheese sandwich? 
A grilled cheese sandwich, from a food truck, that's called milk truck, whose actual name is Bessie. Y'all are not even ready for Milk Truck. 
So, Bessie is the vehicle that drives the Milk Truck. She's a wonderful bright yellow truck that brings a lot of sunshine and happiness to New Yorkers. 
I mean, these guys make the best-grilled cheese sandwiches. Literally. 
The Three Cheese Grilled Cheese is probably the best grilled cheese in the world. It's made out of aged Gruyère, aged New York state cheddar, and Wisconsin blue. It also contains caramelized apples.
Remarkable. 
>
Ice cream is wonderful. It's a dream. It's perfect. Do you know what isn't perfect? Ice cream that's full of hormones due to the unethical measures of milk production. 
No fear!
Van Leeuwen Artisan Ice Cream Truck only sells local, hormone-free ice cream. There's no worry about hormones in your ice cream with this food truck.
Plus, they have incredible flavors. There are unreal flavors like black sesame ash, as well as amazing flavors like peanut butter marshmallow crunch. It's truly remarkable natural ice cream, and it's really popular in the city. 
>
So, Solber Pupusas is a Latin-American food truck. 
They sell the most stunning pupusas. If you've never tried pupusas before, you're missing out.
They're basically corn cakes, but they prepare them with unbelievable food. They usually contain veggies and meat, or cheese and veggies, but it's mixed with jalapeños, tomato sauce, and coleslaw.
Not only that, but they're insane, and they're typically only available on the weekends, at the Brooklyn Flea and Smorgasbord markets. 
>
Taïm Mobile is a middle eastern food truck. 
It's run by a remarkable wife-husband duo. Einat Admony and Stefan Nafziger are the owners of this iconic stand, which is popular not only in NYC but all across America.
Okay, for context, these guys own a brick-and-mortar restaurant, but they also have food trucks in the civic center. It's pretty great, it means you can just get food on the go. 
They sell some of the greatest falafel in NYC. They also sell immense smoothies, I mean, incredible smoothies! Taïm Mobile is really popular with locals, and for good reason. Furthermore, they also sell eggplant sabich which is a fan favorite, and impossible kebabs (great for vegans!). 
>
Mysttik Masaala is one of the best food trucks for healthy, yet delicious food. 
They serve proper meals, but it's none of the junk food rubbish. It's authentic Indian food that the whole of New York adores. You can get amazing chicken dishes, like butter chicken, chicken kolhapuri, and even chicken tikka masala. 
Then even serve unbelievable vegetarian and vegan options. The chana daal is stunning, but so is the vegetable vindaloo. 
If you don't want a meal, they sell snacks too. The samosas are out of this world, and you can buy chicken or veg! 
>
Coolhaus Ice Cream Sandwiches is a pretty cool company. 
It was founded by LGBTQ+ women, who did not feel represented by the industry. 
Now, they're one of the most popular ice cream sandwich food trucks in all of NYC. 
They serve interesting flavors, such as Thai iced tea and pistachio-truffle. 
Truly an awesome food truck that you have to try! 
Summary 
I hope that this article has helped you find the perfect food truck for you. 
There are tons of different types of food trucks around the city, and we've listed just 10 of our favorites here. 
We hope that you enjoy this list!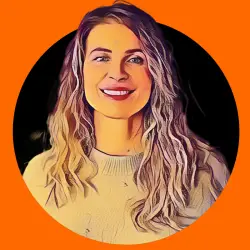 Latest posts by Denise Zanman
(see all)