Philadelphia is food-truck heaven. Whilst you likely associate Philly with the classic Philly cheesesteak, this city has so much more to offer! From bold and colorful Mexican cuisine to super indulgent sweet treats, Philly has it all. 
Sounds good, right? Check out the list of the best food trucks in Philadelphia below. We cover everything, from halal greek food to the best of Hawaiian cuisine, and everything in between. Take a look!
>
We just had to kick things off with the Dos Hermanos Tacos Truck. Started by two brothers in 2014, Dos Hermanos Tacos has grown to become one of the most popular food trucks in Philly – a reputation that is very well-earned!
If you're a fan of food trucks that focus on fresh and flavorful ingredients, you need to check this one out. We absolutely adore the mahi-mahi tacos. If you visit, you have to get their pineapple mango salsa and a side of elote. 
>
The guys behind Los Potrillos Food Truck now have a brick-and-mortar restaurant in North Philly. However, if you happen to stumble across it, we cannot recommend their food truck highly enough. 
Their service is just delightful, the food is top-quality, and the price is wonderfully affordable. We love to order the tacos de birria. However, if that doesn't sound good, the menu is huge and wide-ranging – from burritos to chimichangas, they have it all!
>
If you're a student at Temple University, you will already know all about the Crepe Truck. If you haven't heard of it before, what are you waiting for? This food truck is perfect for pancake lovers – sweet or savory!
There are plenty of options for vegetarians at this food truck. Whilst we love the savory buffalo chicken crepe, there are lots of different options that cater to a wide range of tastes and dietary needs. 
>
It's a little bit crazy that we've gotten this far through the list without mentioning a truck that focuses on philly classics (i.e. cheesesteaks). If you're looking for a food truck that will provide you with all of the Philly favorites, the Brotherly Grub truck has got you covered.
If you are a meat-eater, you simply have to try their signature dish – the brisket cheesesteak! It is the perfect combination of flavors and textures. However, they do provide some wonderful vegetarian and even vegan cheesesteaks too! 
>
If you're looking to make more mindful purchases as a consumer, you absolutely need to check out the SoPhiE Food Truck. SoPhiE (South Philly East) is the first food truck in Philly operating as a non-profit. 
The goal of SoPhiE is to provide opportunities for local immigrant chefs to share their food with the whole city. In addition to having a wonderful ethic and cause, the food at this food truck is incredibly delicious! 
>
If you're looking for a food truck in Philly that serves only halal food, you need to check out the Miss Lee Halal Food Truck. They are a small business serving the West Philly area with a great menu of breakfast and lunch options. 
They serve a large range of cuisines, including Greek, Chinese, and American classics. Whether you want a flavorful chicken lo mein, a super juicy cheeseburger, or an uber filling lamb gyros, this stand has got you covered. 
>
The Octopus Falafel Truck is one of the most elusive food trucks in the city. It is only around a few days a week for around two hours a day, and there is no menu. Yep… no menu. So you might wonder, how on earth do you know what to order?
Well, you pay the man behind this genius concept $10. Then, he makes you whatever he wants to make you. The portions are absolutely huge and he uses the freshest ingredients possible. If you're looking to take a friend out for a very cool experience, this truck is ideal!
>
Who doesn't love a traditional Neapolitan style pizza? If you're looking for a food truck that can satisfy your pizza cravings, you need to check out Pitruco Pizza. Here, the personal pizzas are made from scratch and to order. 
In fact, they actually have a Neapolitan style brick oven in the truck! We absolutely love the spicy garlic pizza. It comes with garlic, chilli flakes, and pecorino cheese. However, all of their options are completely customizable, so there should be something for everyone. 
>
If you're looking for an award-winning food truck close to Drexel University, look no further than Jerry's. You may also find these food trucks at local festivals and events in the Philly area. If you spot the truck, you should definitely pop over to have a bite!
Jerry's serves classic American cuisine. From pulled-pork sandwiches and Philly cheesesteaks to roast chicken cutlets and veggie bean burgers, these guys have something to satisfy anyone!
>
This food truck specializes in events, so you're unlikely to see them parked in a public area any time soon. However, if you spot their bright yellow van at a festival, we cannot recommend their food highly enough.
In fact, if you're thinking about hosting an event yourself, the Whizzle Truck makes for a great way to feed your guests. They specialize in typical America and Philly cuisine. We particularly love their cheesesteaks!
>
If you love enjoying a wholesome and fulfilling burrito for lunch, you need to check out Burrito Felix Philly. These guys really know their way around a burrito! In fact, they've won awards for their Mexican dishes!
If this sounds like something that you'll enjoy, keep an eye on their Instagram page for updates on their whereabouts. Remember to bring cash with you, and get there early! This food truck is known to sell out. 
>
If you're looking for something a little different, why not try out some Hawaiian cuisine? Poi Dog has won many awards, including Philadelphia Magazine's Best Food Truck award. We promise, their excellent reputation is very well-earned.
Our favorite plate is the Poke. They always use incredibly fresh ingredients. However, be sure to follow their Instagram closely to ensure that you don't miss out! These guys tend to sell out early. 
>
If you're around the Callowhill neighbourhood, you need to check out Haley Quinn's Food Truck. It is absolutely loved by locals – and it's not hard to see why! This truck serves American picnic food, such as super fresh soups and light fluffy sandwiches. 
Don't be put off by the very large line that usually emanates from this food truck – we promise, it is definitely worth the wait! Our favorite dish is their pork roll quesadilla. Make sure that you also get the spicy pickles!
>
Finally, we couldn't finish this list without including The Cow and The Curd. If you love cheese, you need to check this one out. They have a very simple menu that focuses on using fresh and top-quality ingredients. 
If you go, you can expect to choose from beer-battered and fried Wisconsin cheese curds, poutine, and even goat cheese curds. In our humble opinion, you can never really go wrong with poutine – especially when it's made by the guys behind The Cow and The Curd. 
Final Thoughts
The street food available in Philly is unrivalled. Contrary to popular belief, you can get so much more than the humble cheesesteak! We hope that this list inspires you to branch out and support some awesome local businesses!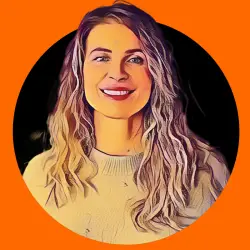 Latest posts by Denise Zanman
(see all)